the First LGBT Protest Action against Violence
On February 22, 2009, around 200 people gathered on Sodeco Square in Beirut, Lebanon to protest discrimination against homosexuals, news agency Reuters informs.
The Anti-Violence Sit-In was protesting discrimination against minorities in general and LGBT people, among them. The event was organized by the local LGBTIQ organization Helem in collaboration with other human rights and concretely, LGBT rights organizations and groups: Meem (A Community of Lesbian, Bisexual, Queer & Questioning Women and Transgender Persons in Lebanon), Feminist Collective, KAFA (Women's Organization), SIDC, MASSAR, ALEF, TYMAT, HRW Lebanon and Social Movement. The demonstration was attended by ordinary citizens as well, protesting any kind of violence.
"Sexual orientation is NOT sickness, violence IS sickness." – From a banner into Arabic. .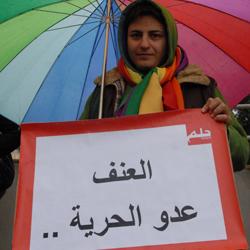 The demonstration was a direct response to a violent incident in Achrafieh, about a month earlier before the protest action, in which two men "caught" in intimacy into the reconstructing building were severely and bloodily beaten by a group, using even sticks on Sassine Square, www.nowlebanon.com informs. Conflicting reports have, however, marred the incident regarding the aggressors. According to the French-language newspaper L'Orient Le Jour beating was carried out by security personnel, while other sources, including Helem, say the men were assaulted by civilians.
Among the various banners of the Sit-In you could see slogans against Article 534 of Lebanese Penal Code which punishes "unnatural sexual intercourse" with up to one year of imprisonment. Banners were held with slogans: "Human Sexuality Is Diverse", "Feminists Against Violence", "STOP the war on women's bodies!" etc.
Having been the first of its kind in the Arab world and Lebanon, the protest action was very important indeed.